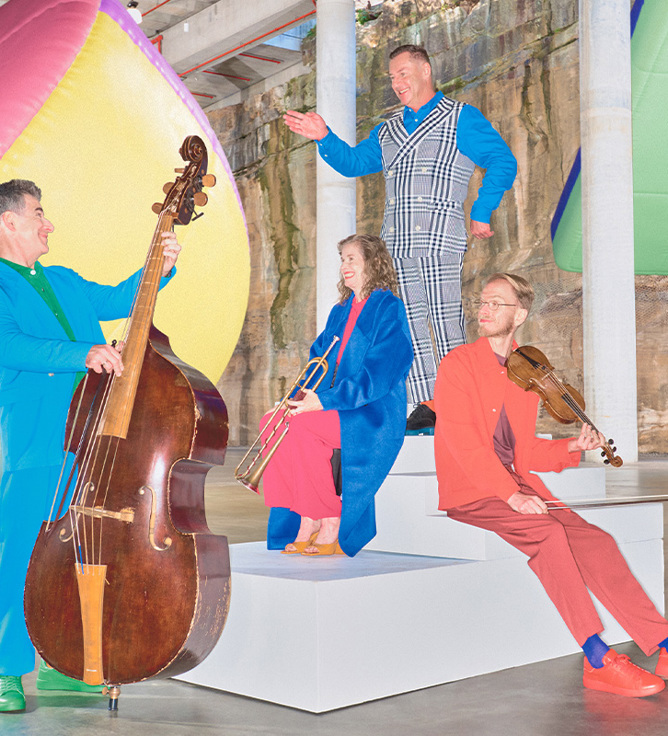 Live, vulnerable and raw, the Australian Brandenburg Orchestra is unapologetic in our mission to push the limits of experience in the celebration of past and present-day human creativity. We're here to challenge ideas and reinterpret the icons of classical music for the 21st century, creating new audiences to ensure early music lives on in the hearts and minds of new generations.
Reigniting early music from the 16th, 17th and 18th century on rare instruments of the period, that is where our faith for tradition begins and ends. Loved for our personality, warmth and spirit, Australia's flagship period orchestra is for the bold explorers who are unsatisfied having their expectations met with the tropes of pomp and predictability.
We're for the wanderers who courageously thirst for something new; for the seekers and searchers who relish in the spirit of international collaboration for which we are known, which continues to spread deep throughout the world, uncovering the freshest talent and genre-bending virtuosos from all corners of the globe.
And over 30 years on, the Australian Brandenburg Orchestra story continues to evolve as our performances and recordings make a mark on ARIA awards, Hollywood movie scores, make a mark on ARIA awards, Hollywood movie scores, international collaborations, festivals, sell-out concert halls in capital cities, and intimate performances in regional communities. And today our impact is being felt abroad as we continue growing an active global following through Brandenburg One, our ever-expanding digital streaming library of performances, interviews, and more. Our connection to community continues to evolve, with exciting collaborations with First Nations artists and creators in the early stages of development.
Beyond flawless professionalism and critical acclaim as the leading orchestra in our field, it's the personalities of the orchestra through which we shine. As the nation's veritable incubator of Baroque talent, our legacy continues through our alumni: a growing ecosystem of next-generation Brandenburg artists who go on to spark countless early music ensembles around Australia, and join international acts, further expanding the reach and impact of our cherished genre.
As much as our performances described 'like stepping back in time, as the sounds of period instruments resurrect Baroque and classical works with reverence and authority,' as proclaimed by The Australian, we're equally about pushing forward with relevance and creativity. Through genre-defying productions collaborating with contemporary artisans, set designers, authors, directors, projectionists and creative agencies, we treat even the most seasoned audience members to experience the iconic scores of our common cultural fabric woven into a bold new tapestry: always fresh; frequently unexpected; forever exciting.
We are the Brandenburg. And our story, which began with our debut performance at The Opera House in 1990, is still unfolding. We invite you to be part of it.
And... in case you were wondering
Where does our name come from? The orchestra's name pays tribute to the Brandenburg Concertos of J.S. Bach, whose musical genius was central to the Baroque era.