All Roads Lead To Handel's Rome
Andrew P Street discusses what it means to return to the stage in 2021 with Concertmaster Shaun Lee-Chen and Head of Artistic Planning and Management, Ashley Giles.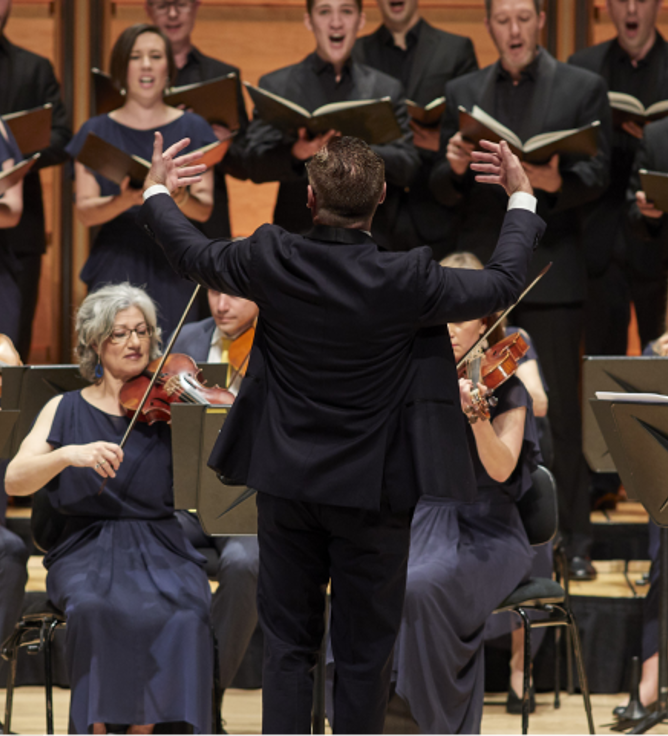 The Australian Brandenburg Orchestra sets an ambitious, upbeat agenda for 2021 with a performance of joyful selections from Handel and Corelli.
Words by Andrew P Street
If there's a message in Brandenburg's choice for their first performance for 2021, it's one of triumph. After navigating an enormously challenging year, the new season arrives in heraldic style with a programme including Handel's Dixit Dominus HWV 232 and Corelli's Concerto Grosso in D major, Op. 6 No. 4 and No. 6, with the Australian Brandenburg Orchestra and Brandenburg Choir finally back on stage together.
"I think to have a concert with an audience is a triumph in itself," Concertmaster Shaun Lee-Chen says. "It is so fitting that we begin the concert with the Corelli Concerto Grosso Op. 6 No. 4 as it is very triumphant music - full of joy and victory. This is absolutely one of my most favourite pieces of music of all time."
"Paul [Dyer, Artistic Director] wanted the concerts to have a really celebratory feel – a triumphant start to the year," adds Ashley Giles, Brandenburg's Head of Artistic Planning and Management, "which is why we have the orchestra and the choir together. We've got a choir of 23 this time around, the orchestra of 19: not as big as we had planned, but restrictions meant we had to trim that down, sadly."
Of course, getting them there in the age of COVID safety has involved a lot of finessing. Rolling border closures and travel restrictions pose ever-changing logistical difficulties, while staging an orchestral and choral performance under current conditions requires dealing with new challenges: some predictable (such as the need for more stage space for socially-distanced performers), and some rather more subtle.
"All of the strings traditionally share one music stand between two players, and there's a bit of a hierarchy within that," Giles explains. "The person who sits closest to the audience is the leader of that desk, and the other player page-turns. But now everyone has to do their own page turning, and we have to rehearse some of these page turns because you don't want the entire violin section all coming off at the same time. There are little things like that which people don't think of but then become things we need to consciously map out."
In fact, dealing with the usual complexities of a concert series now requires what seems like an Apollo mission level of contingency planning.
"Just having an orchestra that's spread around the states is another added difficulty, because state borders have been issues in the past [year]," Giles sighs. "When there was that flare up in Western Australia, we were worried that Shaun wasn't going to be able to get across for it. So, we had to have a contingency: if Shaun can't get here, what do we do? It's been a nightmare in some ways, but it's a fun nightmare because it means we can give musicians the opportunity to perform again as well as give live performance opportunities to our audience."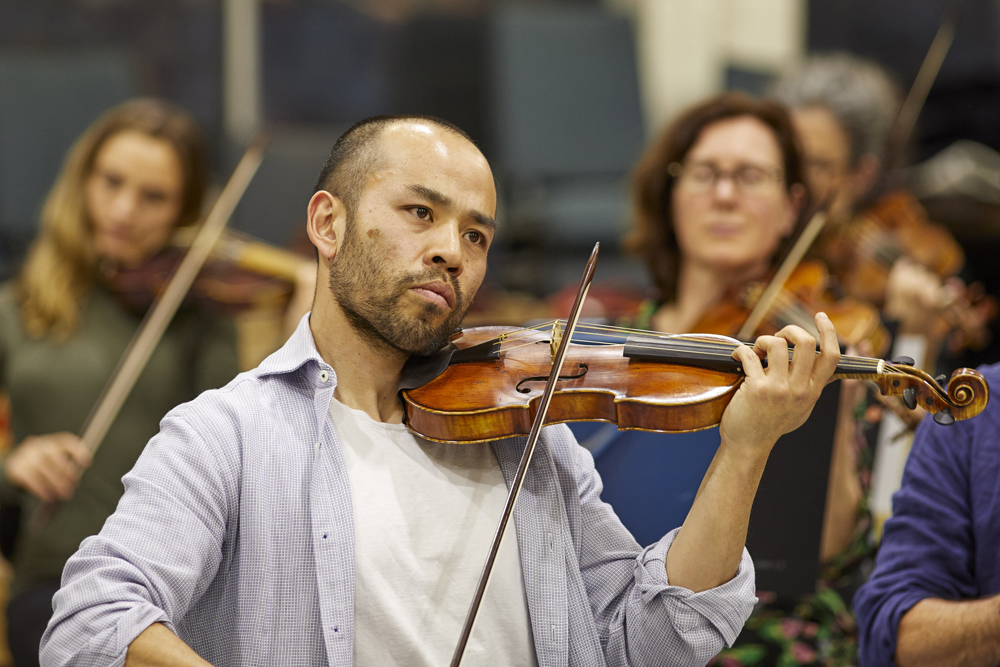 Concertmaster Shaun Lee-Chen during rehearsals of the 2019 concert series Handel's Anthems & Fireworks. Photo by Keith Saunders.
Aside from the new seating and spacing requirements, there's also the fact that, for many of the players, this will be their first large concert in almost a year. "As a group it's important to get everyone back together," Giles says. "Sure, they all know the mechanics of it, but the only way to really get back into it is to do it live."
Lee-Chen is particularly excited by the programme, not least because Handel is just "a pleasure to play. He was just such a great composer and we really take that for granted because we're so used to his effortless mastery. The Dixit Dominus is one of the most incredible examples of Handel's ability to marry the text with sound to vividly portray its meaning. I reckon he's showing off a bit in this piece because it's pretty amazing!" 
And aside from that, the WA-based concertmaster is just looking forward to walking into that room again. "We've been really lucky here in Perth, and I've been able to do some performing here, mainly with my students and some solo stuff. But I'm just excited to play with my orchestra again. I can't wait to see everyone. It's been almost a year and I miss them, they're like family."
"I can't wait to come over. I'm just super excited. You know, you want to play with your friends."
---
Andrew P Street is an Sydney-built, Adelaide-based journalist. His work has featured in numerous Australian and international publications, including Time Out, Rolling Stone and the ABC.