Bach's Universe
Anna Spargo-Ryan talks to German Baroque violinist Jonas Zschenderlein ahead of the Brandenburg's digital première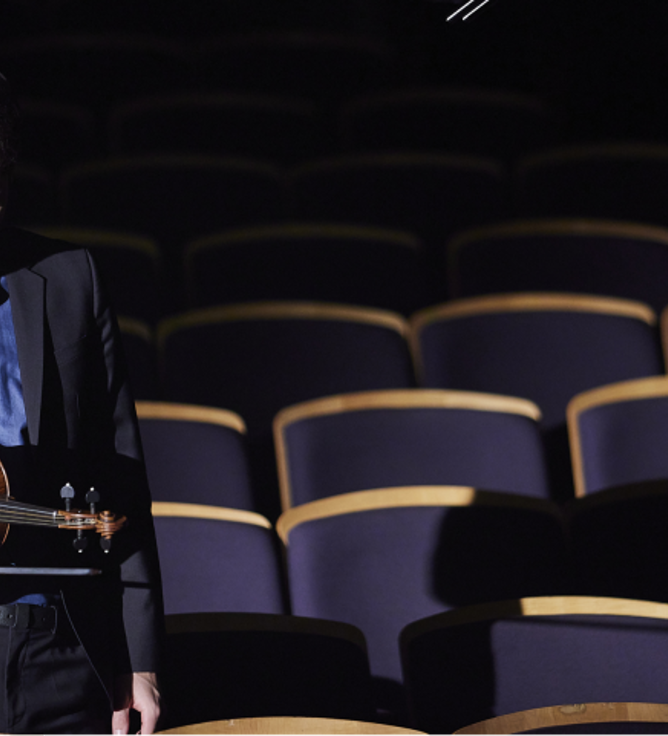 Bach's Universe: The German violinist returning the composer's spirit to Earth
Words by Anna Spargo-Ryan
In 1977, NASA launched two Voyager spacecraft, each holding a pair of golden phonograph records. Etched into these discs were sounds and images deemed to be the most significant contributions made by mankind. If played, aliens would hear laughter, ancient languages, mathematical equations … and the music of Johann Sebastian Bach.
As the child of music teachers in Koblenz, Germany, violinist Jonas Zschenderlein was immersed in sound and began to play at the age of five. It was only a few years later that he discovered his love of Baroque, and of Bach. "When I got my full-sized violin at 11, I got two," he says. "My first teacher had a Baroque violin and he gave it to me."
As a teenager, given the option to play with a modern youth orchestra, Zschenderlein chose Baroque and has never looked back. "It was not my thing to play huge orchestral music, romantic music. So, I chose the Baroque Youth Orchestra." Today, he plays with many early music ensembles including his own, 4 Times Baroque. His performances have taken him to some of the world's greatest music locations, from Carnegie Hall to Musikverein Vienna.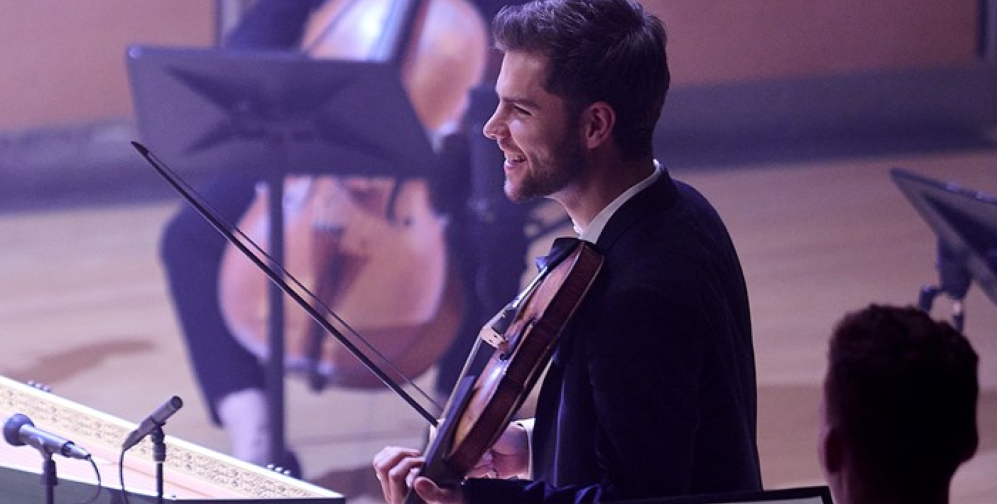 German Baroque violinist Jonas Zschenderlein stars in the recording of Bach's Universe. Photo by Keith Saunders.
But it is the music itself that resonates. Zschenderlein counts Bach among his most inspiring – and challenging – artists, one whose most difficult pieces form part of a repertoire that includes his studio album with harpsichordist Alexander von Heißen, Pure. Zschenderlein has long been encouraged to live in the service of Bach's music, to embrace the conversation that exists in the playing, and the relationship between composer, musician and audience.
"Solo pieces by Bach are challenging for all people, without exception," Zschenderlein says. "You have to focus so much on everything and you have to really enjoy it. It's important to have images in your head, especially when playing Bach. If you don't have a text, you must make your own."
In conversation with Australian Brandenburg Orchestra director Paul Dyer, Zschenderlein discusses the many aspects that made the great composer who he was – a God-fearing man who communicated his reverence through his music.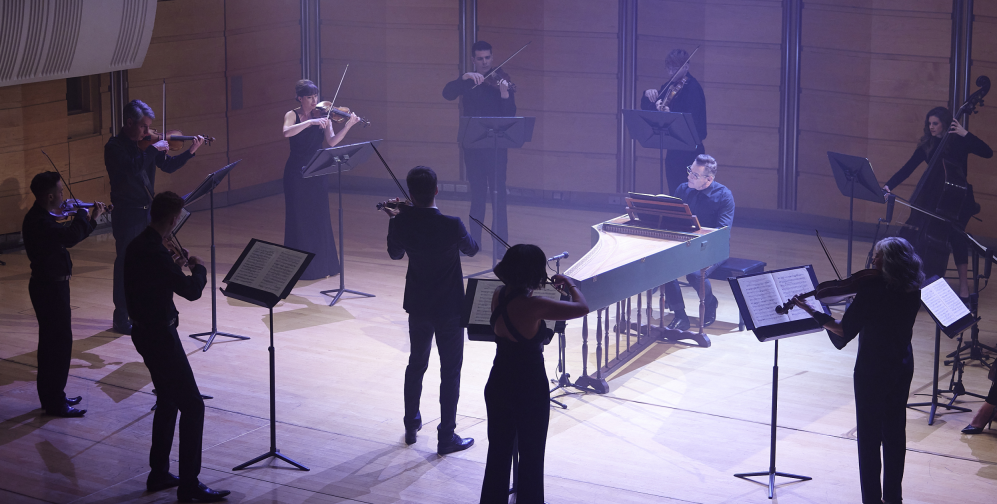 Paul Dyer and the Australian Brandenburg Orchestra in the recording of Bach's Universe. Photo by Keith Saunders.
"He was so brilliant," says Dyer. "It was beyond comprehension. He could write music, he was a lawyer, a mathematical genius. There was a human side to him, too – he was grumpy, he was demanding, he went to gaol. He was a father and a humanitarian. He was a regular man in a village, writing because he adored his creator, and because he was a family man who wanted to put money on the table. He was completely obsessed with music. But his devotion to God was the most important thing."
Bach's compositions reveal a creative and scientific life that had religion at its centre. His music is known to contain cryptograms: hidden messages and numerical symbolism that famously use even his own name as a motif. It is easy to imagine the deliberate act of situating each note and phrase.
"In Baroque music, every tonality has a meaning," Zschenderlein explains. "For example, E major [of Bach's Violin Concerto in E major, BMW 1042] is a major tonality but it's somehow very deep. It's the tonality of death. But it's also really bright, in a way. It's not death in the sense that everything is sad and down. That was what he always wanted to tell people, I think – when it's about death, it's very positive. It's sparkling."
Dyer agrees. "In Bach's case, death is good. He gets the chance to go to heaven – that was his vision."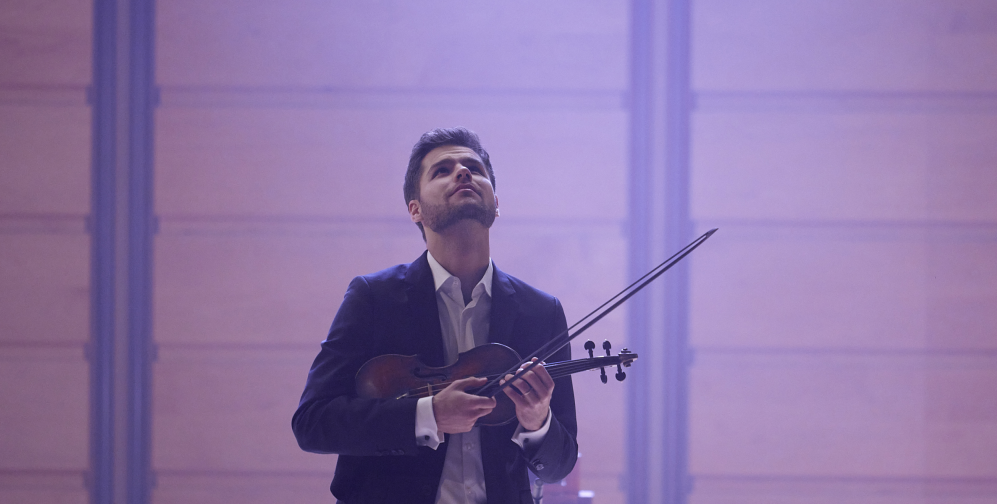 Jonas Zschenderlein in the recording of Bach's Universe. Photo by Keith Saunders.
In the Baroque world, and the Australian Brandenburg Orchestra, the instruments themselves do as much to convey this meaning as the music. Using traditional pieces is crucial to producing the most appropriate sound, and Zschenderlein hopes the growing audience for Baroque will naturally allow people to understand Bach's meaning.
"We are the servants between the composer and the audience," he says. "This is also the reason we use Baroque instruments – with modern instruments, we're not able to express what it was at that time. We really need these to express ourselves."
As Bach's music hurtles through space in search of intelligent lifeforms on other planets, one wonders what meaning they might take from the compositions. In the meantime, Zschenderlein's faithful renditions will continue to share the great composer's fulsome piety here on Earth.
---
Anna Spargo-Ryan is the author of The Gulf and The Paper House, and a winner of the Horne Prize. Her work has appeared in The Big Issue, Island, Kill Your Darlings, Meanjin, Good Weekend, the Guardian, and many other places. She is a PhD candidate in Creative Writing at Deakin University, and nonfiction editor at ISLAND Magazine.