In Conversation
Carla Zampatti & Paul Dyer
In this special interview hear Artistic Director Paul Dyer and Carla Zampatti discuss their friendship, music & fashion.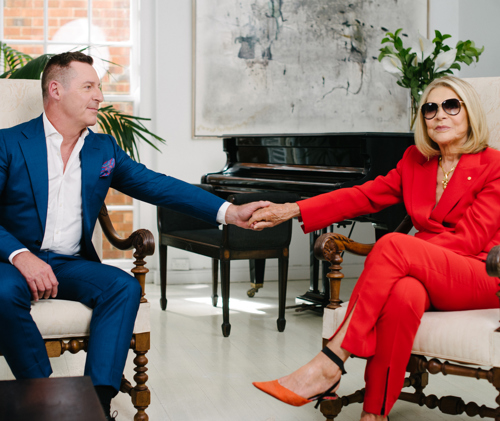 About
ABOUT CARLA ZAMPATTI
The Carla Zampatti's fashion story over the past 56 years has correlated with the modern Australian woman's journey. From the 1960s to now there has been so many historical and major societal changes — the introduction of The Pill, the women's liberation movement, equal rights, participation in the workplace, the #metoo movement and today's disrupted COVID world — and at every moment Carla was there dreaming up and creating a wardrobe for the contemporary Australian woman. Sadly, Carla passed away on the 3rd of April 2021 in Sydney but her legacy still lives within the iconic fashion house she started as a young single mother.
Carla Zampatti loved fashion for its own sake but also for what it could do for women, her customers. If you were well dressed, you felt better, confident, and crucially to her, you could do more. Her own experiences made her a fierce champion of women - nothing gave her more joy than seeing a woman succeed - except perhaps succeeding in one of her designs! She loved every story she heard from customers about wearing her clothes, because they gave her so much joy. She was an inspiration to so many - particularly women and migrants - for her achievements, but particularly her determination, her courage, her warmth and style.
Born in Lovero, Italy, Carla moved to Australia as a child with her family in 1950. From a young age she noticed a gap in the womenswear market, never quite being able to find the clothes that spoke to the multifaceted nature of women. She went on to launch her eponymous label in 1965, opening up her first boutique in Sydney's Surry Hills in 1972 and paving the way for aspiring female fashion designers in an often male-dominated industry. That one small store has grown into one of Australia's most successful fashion businesses with stores across Australia and New Zealand.
Now, and into the future, her children Alexander Schuman, Bianca Spender and Allegra Spender will take Carla's legacy forward with the Carla Zampatti team. They are dedicated to continuing to make women feel confident, beautiful, and ready to take on the world just like Carla did.
Image Credit: Katelyn Jane-Dunn, 2020
More for you...
More for you...
{% series.runtimeTotal %}
{% series.concertCount %}
{% series.concertCount === 1 ? "video" : "videos" %}
{% series.name %}
Featured Content
{% series.featuredTitle %}