In Conversation
Elinor Frey
The extraordinary cellist Elinor Frey joins the Brandenburg to talk about her musicality, incredible instruments and collaboration with the Australian Brandenburg Orchestra.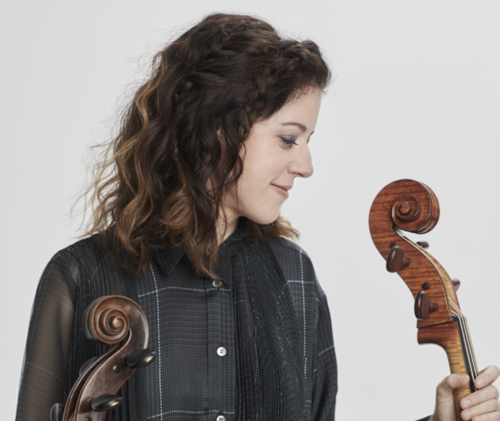 About
ABOUT ELINOR FREY
Elinor Frey is a leading Canadian-American cellist, gambist, and researcher who specializes in early music and new music. Her acclaimed CDs on the Belgian label Passacaille – most of which are world première recordings – include La voce del violoncello (2013), Berlin Sonatas (2015) with Lorenzo Ghielmi on fortepiano, Fiorè (2017), which features soprano Suzie LeBlanc, and Giuseppe Clemente Dall'Abaco: Cello Sonatas (2020) which received a Diapason d'Or. She just released Antonio Vandini: Complete Works, a project in collaboration with Marc Vanscheeuwijck. Her critical edition of Dall'Abaco's Complete Works for cello is published in collaboration with Walhall Editions.
Frey's debut album, Dialoghi, is titled for the solo piece written for her by Steven Stucky, and her CD of new works for Baroque cello, titled Guided By Voices, was released on the Analekta label in March 2019. These works are by Scott Godin, Linda Catlin Smith, Ken Ueno, Isaiah Ceccarelli, Maxime McKinley, and Lisa Streich.
Frey's honours include a US-Italy Fulbright Fellowship, the SSHRC Canada Graduate Scholarship, American Musicological Society, and Canada Council for the Arts grants facilitating her work on Italian cello music. In recent seasons she has performed throughout N. & S. America and in Europe including as a soloist with Pacific Baroque Orchestra, Rosa Barocca, Il Gardellino, and Les Idées heureuses, and in chamber music with Constantinople and Pallade Musica, grand prize winners of the 2012 Early Music America Baroque Performance Competition and second prize winners in the 2014 International Van Wassenaer Competition in Utrecht. Currently a course instructor at McGill University, and instructor of Baroque cello at the University of Montréal, Frey holds degrees from Mannes, McGill, and Juilliard, and is the Visiting Fellow in Music from 2019-2022 at Lady Margaret Hall, Oxford University. Frey was awarded Québec's Opus Prize for "Performer of the Year" in 2021.
Biography: Elinor Frey, 2023
Image Credit: Elizabeth Delange
More for you...
More for you...
{% series.runtimeTotal %}
{% series.concertCount %}
{% series.concertCount === 1 ? "video" : "videos" %}
{% series.name %}
Featured Content
{% series.featuredTitle %}