In Conversation
Melissa Farrow
In an engaging interview, Principal Baroque Flute/Recorder Melissa Farrow talks about her journey becoming a professional musician, her affinity with the music of JS Bach and what she would do if she found a ten million dollar lottery ticket.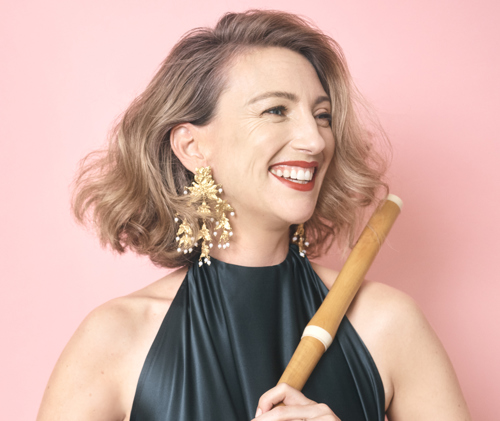 About
ABOUT MELISSA FARROW
Melissa Farrow enjoys a fulfilling career as a period flautist, recorder player, and teacher on the Australian early music scene. She plays a variety of instruments, including various models of traverso (side-blown flute) and recorder.
Growing up in Auckland, New Zealand, Melissa came to Sydney in 1994 to study Undergraduate flute and recorder at the Sydney Conservatorium of Music. She then completed postgraduate studies at the Conservatorium of Amsterdam in flute, recorder and traverso. On her return to Australia, Melissa chose to focus her attention on the area she loves most, early music, collecting and playing historical instruments from early French model Baroque flutes through to mid-Nineteenth century flutes.
Since 2003, Melissa has been Principal Traverso of the Australian Brandenburg Orchestra, and is a core member of the Australian Haydn Ensemble and the Orchestra of the Antipodes. Melissa is regularly asked to play with other notable ensembles such as the Australian Chamber Orchestra, Adelaide Baroque, New Zealand Barok, Ironwood, Latitude 37, Ludivico's Band, The Marais Project, and for the Sydney and Brisbane Festivals.
As a traverso and recorder soloist with the Australian Brandenburg Orchestra, Melissa has performed a number of concertos including Vivaldi's La Notte, JS Bach's Brandenburg 5 Concerto, Telemann's Concerto for Flute and Violin, Telemann's E minor Recorder and Flute Concerto and JS Bach's Brandenburg 4 Concerto and Mozart's Andante and Flute and Harp Concerto. She plays on several of the Brandenburg's recordings including The Romantics and Brandenburg Celebrates playing the Telemann Concerto for Flute and Violin with Shaun Lee-Chen.
Over the past ten years, Melissa has been given the fantastic opportunity of curating some of the Brandenburg's smaller chamber music performances for City of Sydney community centres, Australian Unity communities, Art Gallery of NSW, National Gallery of Australia, and Regional Tours.
Melissa enjoys teaching recorder and Baroque style for both modern and Baroque flute and is a casual lecturer in Baroque Flute at the Sydney Conservatorium of Music.
Biography: Melissa Farrow, 2020
Image Credit: Georges Antoni, 20219
More for you...
More for you...
{% series.runtimeTotal %}
{% series.concertCount %}
{% series.concertCount === 1 ? "video" : "videos" %}
{% series.name %}
Featured Content
{% series.featuredTitle %}